By: The Humanity Forum (THF)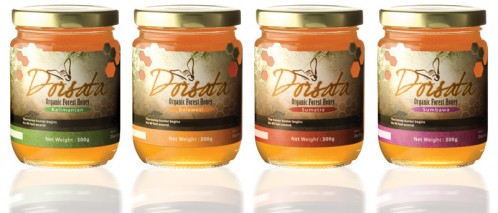 From a humble beginning, Borneo forest honey harvested by the local tribesmen in Borneo and other parts of Indonesia has been transformed into a product with an international positioning. This success story of humanitarian branding is achieved through a close collaboration between 2 NGOs a social enterprise.
The Beginning
Mr. Johnny Utama, the managing director of a social enterprise Dian Niaga Jakarta (DNJ) is one of a veteran in Indonesia's NGO/humanitarian scenes. He's been involved in a lot of conservation and humanitarian efforts there. One of his latest projects at that time was to consolidate all forest honey harvesters in Indonesia into a network called "Jaringan Madu Hutan Indonesia" (JMHI, Forest Honey Network of Indonesia). Most of the members are the indigenous people who live inside the thick jungles of Borneo, Sumatra, Sumbawa, Sulawesi, and many other parts of Indonesia. Since getting recognition from outside this network is one of their missions, JMHI needs an identity. Therefore, Mr. Johnny decided to consult this matter to his friend who is a professional producer in one of the largest advertising agency in Indonesia, Cynthia A. Sudarto, who is also our director for Indonesia. At the same, Mr. Johnny presented his idea of launching a high-end organic forest honey. After their informal chat, Cynthia shared this matter with me and we agreed to work on this project.
One of the main reasons why THF decided to take on the project is because of the fact that, the NGO and the products are aimed to improve the lives of the harvesters who are the indigenous people lives in the thick jungle of Borneo, Sumatra, Sulawesi, Sumbawa and other parts of Indonesia. We believe that we can help them in the marketing aspect, which in turn, can help in boosting their sales. This means, the tribesmen will get more benefits through modern marketing.
Since this project has a very little budget unlike commercial ones, we were challenged to find a branding agency that can take on this project. Furthermore, getting good recognition with the high positioning of their new products are their main objectives, we were challenged even more as in normal cases, to execute this kind of brief will require quite a number of branding specialists like branding manager, creative director, art director, graphic designer, copywriter, photographer, etc. We all know, more experts, more manpower, equals high budget. However, through our networks, we managed to get a branding agency that is willing to work on this project on a "pro-bono" basis. W3-O Design Lab, a small brand boutique based in Singapore that handles quite a number of regional accounts, was very excited to be able to participate in this project. They even offered to cover the whole branding activity, which will be further explained in the next paragraph.
With their extensive experience in regional branding activities, particularly in South East Asia, Asia Pacific as well as global markets, W3-O Design lab has come up with a total branding solution for the high-end forest honey. Here are the steps:
1. Finding the right name
Naming is one of the most important aspects of branding. Having a wrong one might put your brand into a wrong position or sometimes it might even jeopardise it. Initially, the brief stated to use "Madu Hutan" ("Forest Honey" in Indonesian) as their name. However the agency (W3-O Design Lab) found it rather ineffective and understated. Considering the new product will be positioned internationally and among high-end products, we needed something that has more "weight". Honey, or forest honey in particular, is not something new. People has been consuming it for thousand of years. And the fact that we are aiming for higher positioning, we can be assured that our target audience is familiar enough with honey product. So, if we were going to call it "Madu Hutan" or "Forest Honey", the audience will think that this might just be any other ordinary low-mid quality honey harvested from the forest. It is understated indeed, as our honey has much higher quality and organic certification. Therefore, we needed something that will appeal to the upper-class. After several proposals, Dorsata – Organic Forest Honey, was then selected. It is derived from the scientific name of the giant forest bees –Apis Dorsata, that collect nectars from forest flowers which then produces the forest honey, our product. Just like the Manuka Honey from New Zealand, "Dorsata Honey" will also be displayed on the same shelves.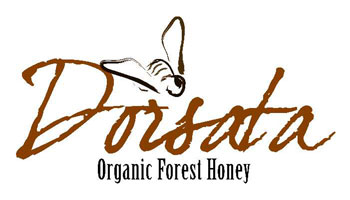 Dorsata new logo
2. Label Design
The next step is to come up with the labels of the products. Due to the limitation of production technicality, the agency could only work with simple labels for the jars. However, this has become a challenge by itself for the agency, as there were quite a number of unique selling points (USP) that could be applied into the packaging. One of the most unique ones is the harvesting technique, which has been ingeniously narrated in a simple graphical yet stylish on the bottom of the label. The label designs were very well received among JMHI members, commercial sectors as well international audience.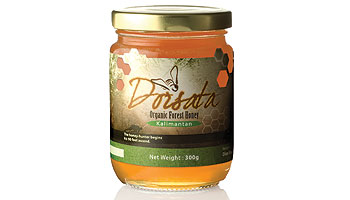 Dorsata Brand New Label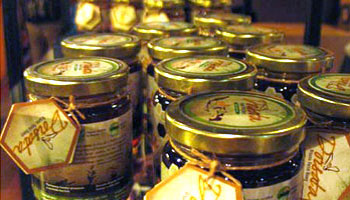 Product Display During the Launch
That's All?
After coming up with the correct identity and packaging, we can say that we are quite ready to hit the production line but not the shelf. The agency suggested a few collaterals and advertisements to boost the branding and the marketing activities. These were very crucial items for the on-going marketing campaign particularly for the launch and roadshows.
| | |
| --- | --- |
| JMHI's New Logo | Dorsata T-Shirts |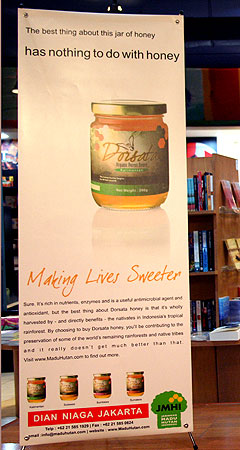 X-Stand Banner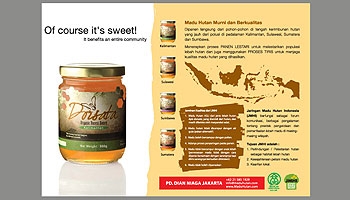 Flyers
The Launch of Dorsata in Jakarta
After all the preparations, Dian Niaga Jakarta decided to launch The Dorsata in a rather unique venue in the southern Jakarta, the QB bookshop's café. The whole café was decorated with leaves and giant Apis Dorsata on the ceiling. According to Mr. Johnny, he wanted to let the whole audience have a feel of the thick tropical rainforest where the indigenous people harvest the honey. This was elaborated further by the appearance of one of the harvesters from Borneo in Ibanese traditional clothing, to sing the "Timang Lalau". It is a song or a mantra that needs to be sung during the harvest. It is such an amazing tradition that should be preserved. Besides the "Timang Lalau", there were quite a number of speakers from other NGOs presenting their involvement in Dorsata and JMHI, including The Humanity Forum. Most of the attendees are from the environmental NGOs/researches, Press and some private sectors. Everybody seems to be very impressed with the Dorsata as it appears to be very professional and highly marketable. This was proven as one of the attendees from private sectors approached Mr. Johnny to talk some business deals. It was a great and fruitful event for DNJ. As for us, The Humanity Forum, we were also approached by quite a number of NGOs and researchers who were very interested in finding out more information about our MEDIA NGO. In fact, some of them showed some interest in working with us.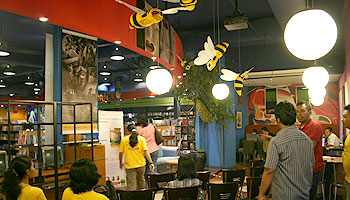 The forest and the Apis dorsata in Jakarta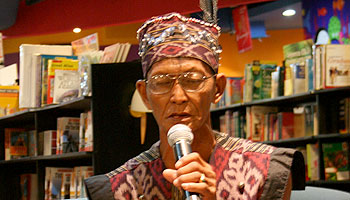 The Timang Lalau by pak Abdullah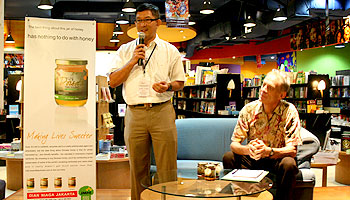 Mr. Johnny with Mr. Jenne of NTFP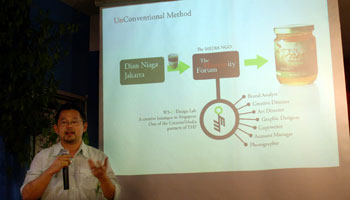 Presentation by The Humanity Forum
Post Launch
It's been more than half a year since the launch of the Dorsata, but we still get regular text SMS-es from Mr. Johnny about how well the Dorsata has been received during their on-going roadshows/seminars locally and overseas. Below are just some of them:
"…The Ibanese honey hunter told me: 'It is like a dream my honey became so nice' He said 'the first time I notice it is Danau Sentarum Honey' Dress up" in this beautiful bottle my tear almost drop'…"

" Will, we just returned [from] India after [attending] honey workshop. I [presented] DORSATA [to] everybody [and they all] said [that] DORSATA is the most beautiful design . U should be proud of it. [The] Indonesia team [is] also very proud…"
| | |
| --- | --- |
| Dorsata Honey in India | Ibanese Tribeman |
Dorsata, A Success Story for Humanity
As u can see, there is a better to market a product. Due to limited resources, a lot of products from NGOs or even social enterprises appear to be very amateur and sub-standard despite their good quality product. We all know that buying behaviour has changed where the buying experience is equally important. Dorsata Organic Forest Honey has shown us all that with some help from the professionals (branding and media), NGOs and social enterprises are able to compete with the private sectors. With its networks, The Humanity Forum, the media NGO, will be able to assist other NGOs to achieve it.
*Pictures are courtesy of Wahyu Widhi and Willy Tanujoyo
---