Unicla International
Asia Pacific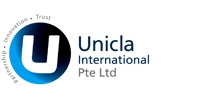 The automotive aftermarket is another field of expertise for W3-O. This was recently reaffirmed when we developed a new identity for a motor oil lubricant by Unicla.
An extensive brand research was conducted to determine the most effective brand strategy and positioning in this very competitive industry. This resulted in a series of packaging developed for the whole product range while a set of Corporate Identity guide was outlined for further application.