Have you ever stared at the airport's arrival/departure flipping board for so long, that you feel like you've been transported to another world? Or maybe stand in awe of seeing so many different walks of life congregated in just one place? That's maybe two of the many beautiful effects you'd get by being in the airport.
W3-O has always been intrigued not only by the effects that airports have on people but also its modern architecture. Of course, our very own Singapore Changi Airport Terminal 3 (T3) is one of them. This then led us to pitch for revamping the immigration checkpoint glass panels at T3.
The inside story
T3 was designed and conceptualised by CPG Corporation and Skidmore, Ownings and Merrill LP. The unique aspects of T3 includes the visible "Butterfly Roof", the 5 stories high Green Wall and open concept that makes use of transparent glass panels all over.
Upon taking up this pitch, we knew it wasn't going to be an easy match as we were going head-on with the big boys. But gloved with our "fight club" spirit, we boxed our way through.
The glass mural that we were supposed to design needed to "block out" the public's view for the immigration checkpoint.
The process
As much as we wanted to go crazy and come up with something out of this universe, we had to keep in line with the architecture concept.
Taking the openness and floral concept of T3 into consideration, we juggled around with several ideas. As the glass panels were relatively huge, we needed to work on high resolution and large working file to ensure the images won't be pixelated.
1. We first created the base graphic of floral design that is consistent with the eco-appeal of T3.

2. Next, bringing our creativity forward, we added some artistic elements that will soften the edges, to complement the contemporary and modern structure.

3. Finally, to carry through with the open concept of T3, we proposed printing on frosted and translucent sticker so it will not lose the openness appeal.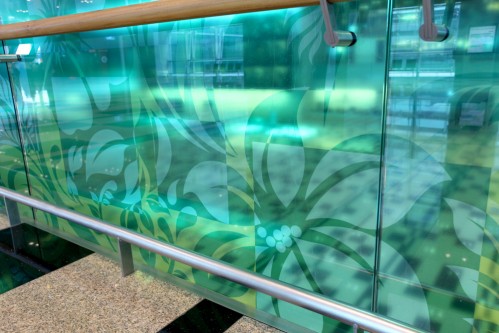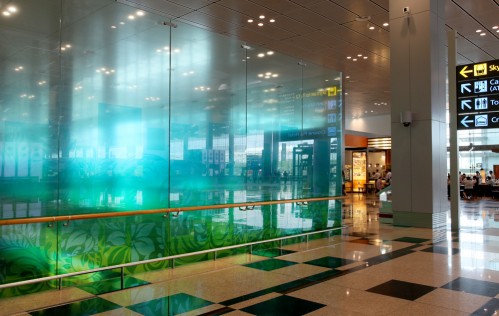 The end result
Because we don't believe in the impossible, we'd go the extra mile for you. Our understanding of deliverables, medium and architecture won us the fight against the big boys.
Come knock on our doors with your bricks and concrete, and we'll build you more than a mural!